Better Living: What to consider when specifying window coverings for aged care projects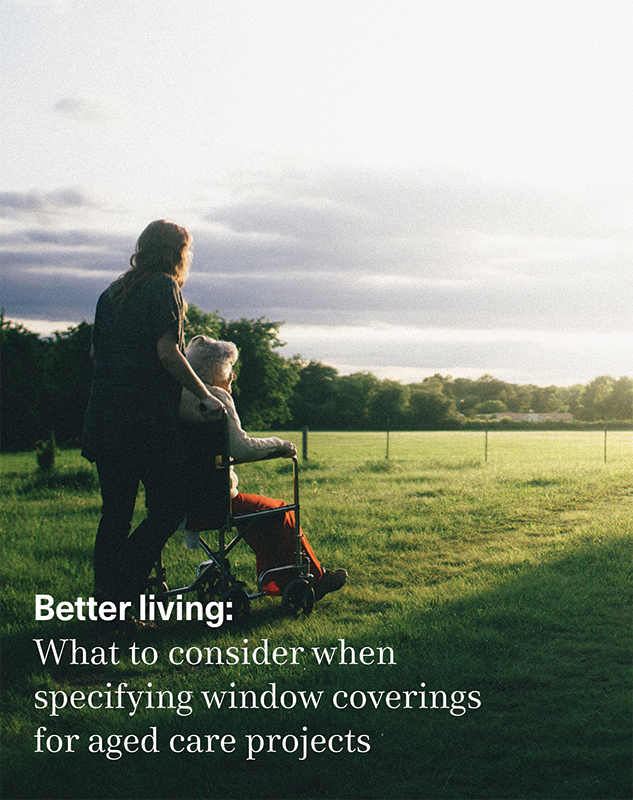 This whitepaper focuses on specifying window coverings for residential aged care projects. It outlines what types of products are best suited to such facilities.
Whitepaper Details
Australia's population is ageing. From 2011 to 2016, the proportion of people aged over 65 years increased from 14% (one in seven people) to 16% (one in six). What's more, by 2040 this figure is expected to increase to 20% (one in five).
As the population ages, so too does the demand for aged care, which in Australia, comes in a variety of forms including residential care (living in nursing homes). According to the Australian Institute of Health and Welfare, 271,261 people lived in such accommodation in 2017-18.
However, as the ongoing Royal Commission into Aged Care Quality and Safety attests, the experiences of those quarter of a million-plus people were not all good. As it stands, many of these facilities do not meet community standards.
These circumstances notwithstanding, the principles of good residential aged care are well established. Apart from more obvious factors like good governance and training standards, they also include considerations like maintaining community connection, access to the outdoors and building design.